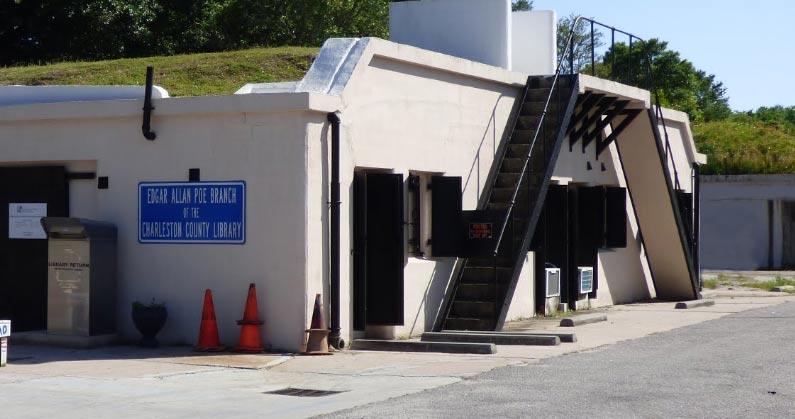 A library is like the human heart because size has no bearing on how much love – in this case, for books and knowledge – it can hold. Take, for example, the Edgar Allan Poe Branch of the Charleston County Library System, located on Sullivan's Island. Although the Poe Library isn't massive, I spent quite a busy afternoon there learning its history, speaking with the knowledgeable staff and signing up for an upcoming program or two.
The Edgar Allan Poe Branch of the CCLS is a historic building; as Battery Gadsden, named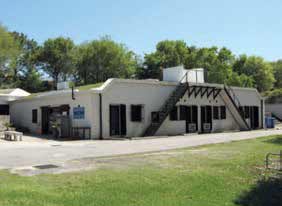 after Brig. Gen. Christopher Gadsden, it was at one time a part of Fort Moultrie. Following World War II, the federal government turned the series of batteries over to the town of Sullivan's Island, and the Edgar Allan Poe Library was dedicated in March 1977. The library closed for renovations following Hurricane Hugo in 1989 and opened again in 1992, to the delight of residents and visitors.
"It's really all about the people here," commented Delores Schweitzer, manager of the Poe branch. "That's the part of my job that I love."
According to Schweitzer, the branch has seen an increase in action over the last year or so with the arrival of the new Sullivan's Island Elementary School – yet it's always been a busy place, with programs both for children and adults and steady circulation numbers.
Recently, the Poe Library has taken on a few new adult programs. Among them is Aging Gracefully, a Friday morning series started in September 2014 and focusing on older members of the Lowcountry population who might be seeking advice and proactive ways to spend their golden years. Schweitzer commented that the Greater Charleston Aging in Place Council speaker series was well-attended in May and June, and she looks forward to other interesting events in the fall after a short summer break.
A second program implemented this year is the Local History and Local Living speaker series. Held on Saturday mornings, the program offers topics tailored to Lowcountry residents and visitors such as a National Poetry Month celebration last April with poet Jim Brueggemann and a lecture on "The Enigmatic Sgt. William Jasper," given by CCPL Historian Dr. Nic Butler in June.
But my personal favorite new program, naturally, is the Adult Memoir Writing Workshop on Monday mornings, which Schweitzer made sound quite enticing – though y'all know my arm doesn't need much twisting for me to write.
"It's a laid-back atmosphere," she said of the workshops. "It's a great storytelling environment. We give the participants a prompt, and then they have the chance to share what they write. I try to keep prompts fun and open-ended."
As far as kids' programs go, you won't find a shortage at Poe, thanks in part to Kathi MacGregor-Ouzts, the branch children's specialist. All summer long, youngsters have the opportunity to participate in everything from summer reading challenges to making crafts and even learning about honey bees. And stay tuned for fun fall activities as well.
After a thorough chat with Schweitzer – as well as with library assistant Connie Darling, who is in charge of the Beachlovers Book Club and the popular mahjong nights – I found myself engrossed in Poe's cozy fiction room, running my finger along the well-loved book spines and finally settling on a novel to take home. I also renewed my library card for the year. Nothing is a hassle at the Edgar Allan Poe branch, with all those smiling faces coming and going.
Mine included, of course.