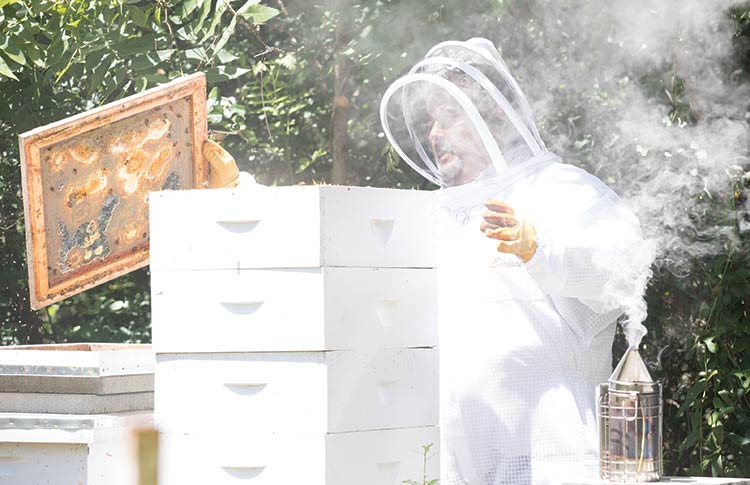 Allan Perry Hazel, a native of Sullivan's Island, has let his fear of stinging insects go. On early mornings or evenings in the midst of summer, family members and neighbors are certain to find him in his vast backyard on the island, tending to the several beehives that will eventually result in A.P.'s Back Beach Bees Honey.
The story behind this local wildflower honey is one rich in family history. The house on Sullivan's Island, where Hazel and his wife Judy currently live with their daughter Maggie, is a longtime family estate, built by Hazel's grandfather, Allan Perry Jones, in the early part of the 20th century. At the time the residence was built, the late Allan Jones had just decided to shift his family east because of the gathering crowds on the island.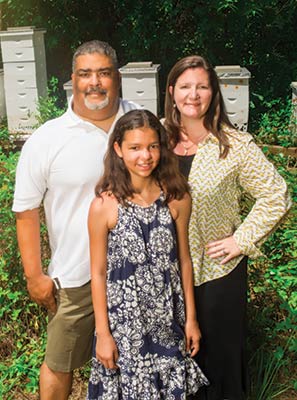 "This area where this house is was once the country," his grandson pointed out with a chuckle, adding that agricultural occupations have been a tradition of his family for generations, from milking cows to owning horses and even growing fruit. However, as much as Hazel loved these traditions, beekeeping was something he just hadn't considered until a few years ago.
"A friend of mine from college got into beekeeping," he remembered. "She called me about it – but I said I didn't want to get stung!"
The "no" that Hazel uttered clearly was not heard by the universe, however. Soon enough, he had another chance to be convinced while visiting his wife's cousin in Maryland – who just happened to be a beekeeper. Hazel found himself "mesmerized for 30 minutes" by the hives, realizing that the bees weren't maliciously stinging anyone – they were busy working.
Newly inspired, he returned with his family to Sullivan's Island and enrolled in a course with the Charleston Area Beekeepers Association. Though he finished the course work and certification in the fall, he had to anxiously wait until spring to get his first bees.
"Bee producers in Southern Georgia provide the bees to our state beekeepers association," said Hazel. "A package includes about 60,000 bees."
The usefulness of having beehives was soon apparent to the family. For example, Hazel's aunt's once-thriving fruit garden – which Hazel himself had taken over – was no longer receiving the pollination it needed. Once the bees moved in, however, that was no longer an issue.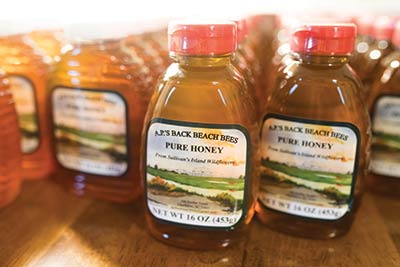 "I realized beekeeping could solve all my problems," he mused, adding that the fruit garden is no longer in production. Nowadays, his family is all about bees and honey. And when I say "family," I mean it quite literally – everyone is a part of the process in some way, right down to the name of the product and the label. Daughter Maggie, a rising 5th grader, helps with production; wife Judy handles company marketing; and other family members "come to help with the process." Even the label is an original painting by Judy's sister, Andrea Hazel, a local artist whose work decorates the family's historic abode. As for the moniker, A.P.'s Back Beach Bees Honey honors Hazel's grandfather, Allan Perry Jones, and the term "back beach" indicates where, exactly, the bees reside and work their magic.
"Local people call the marsh the 'back beach,' while the ocean side is the 'front beach,'" the Hazels explained.
I had the honor of accompanying Allan Hazel, along with Judy, Maggie and Allan's sister Rovena, to the "back beach" of the property and visiting the bees. It was high summer, right after Independence Day weekend, and the bees were busily working on their craft, buzzing about the several hives. Despite the soaring heat index, Hazel donned a full beekeeper suit without blinking an eye, grabbed his smoker (necessary to distract the bees) and interacted with the hives carefully, examining honeycomb frames for progress.
"This time of year – summer – I inspect the bees twice a week, usually morning or evening," he explained.
Back inside the house, I watched him extract honey crusted comb from frames, and I was generously offered a taste. It was delicious, of course, and knowing that local bees created it by seeking out whatever flora exists naturally on Sullivan's Island made it even better. Interestingly, a few smart bees found their way to the Hazel household porches, hovering near the windows in search of the displaced scent of honey. I found myself wishing that the bees somehow understood how much we appreciated their hard work, and that the Hazels would not take more than what was fair.
After the honey is processed, it is poured into the two kinds of bottles – one squeezable and one not – and sold to whomever loves a good dollop of sweetness inside a cup of tea, on a slice of bread or almost anywhere. As for the leftover wax, it's typically used to make candles, according to Judy Hazel, or even lip balm. But it's the honey that keeps people coming back. I guess you could say that it's created a "buzz" on Sullivan's Island and beyond.