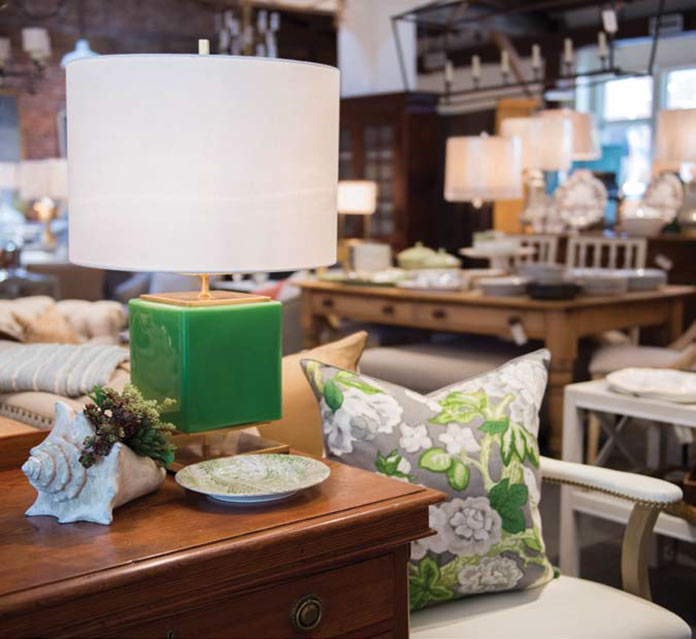 With its eclectic vibe and mix of old and new – people, houses, shops – Sullivan's Island remains an undeniably desirable destination.
This tendency toward timeless beauty and bucking trends bodes well for homeowners looking to design with quality furniture and unique pieces. That's why many Sullivan's Island residents rely on Acquisitions for its assortment of antiques, custom upholstery and reproductions, as well as interior design services.
Family owned and operated for nearly 30 years, Acquisitions offers a variety of traditional and transitional furniture in its 12,000-square-foot store, located at 273 East Bay St. in downtown Charleston. Kathleen Hope and her sister, Mary Norvell Hughes, run the business that was started by their parents, Steve and Molly Hope.
Kathleen said, "The love and appreciation for antiques and thoughtfully decorated homes probably is in our blood. We attract clientele and designers just as interesting and inspiring as the pieces in our store; to see them truly love their purchases is gratifying."
"What sets Acquisitions apart is that we offer antiques that connect to the past with options for up-to-date elements with upholstery, Italian reproductions, lighting and accessories," Mary Norvell said.
"Despite the e-commerce world we now live in, there is really no substitute for seeing and feeling a French buffet, circa 1880, or sitting in a sofa handcrafted in North Carolina," Kathleen said.
Barbara Spell of Sullivan's Island has been a client for about four years.
"Acquisitions is a warm and inviting store, with its mix of old and new pieces and its array of fabrics in interesting shades and contrasting textures," she said.
Customers come regularly to the store just to walk around and visit to see what is in stock. Recently someone came in who had just been to a friend's home on Sullivan's Island with a newly purchased antique from the store.
"She raved about it and wanted a duplicate for herself," Kathleen recalled, adding: "Our antiques are obviously one-of-a-kind, so no two items are the same. But we love helping someone fall in love with their own unique purchase."
The owners of Acquisitions have built a strong relationship with suppliers in the United States, as well as in Italy and England.
"I joke that my little beach house could be the annex showroom for Acquisitions," said Susan O'Malley, another client who lives on Sullivan's Island. "They have an extraordinary creative flair and an unsurpassed level of customer service."
Working with family is the most rewarding aspect of the job for the sisters.
"We grew up alongside Acquisitions, and being a part of that makes every day meaningful," she said.
As with any good business, the staff is key. Emily Johnson has been with the company for over five years, and Sarah Hunt recently joined the team.
"We treat them as an extension of our family, and they respond by caring for the business as if it were their own," Mary Norvell said.
"I have so enjoyed working with Emily Johnson over the past several years," Spell agreed. "She is unfailingly cheerful and accommodating and has impeccable taste and a great eye for color and detail," she said.
The goal for the future is to simply continue to provide clients with unique, tasteful items for the home, according to Kathleen.
"Charleston's ability to remain historically beautiful and attached to its roots while remaining current mirrors what we do here at Acquisitions," she explained.
To learn more, visit www.acquisitionsinteriors.com or call 843-577-8004.