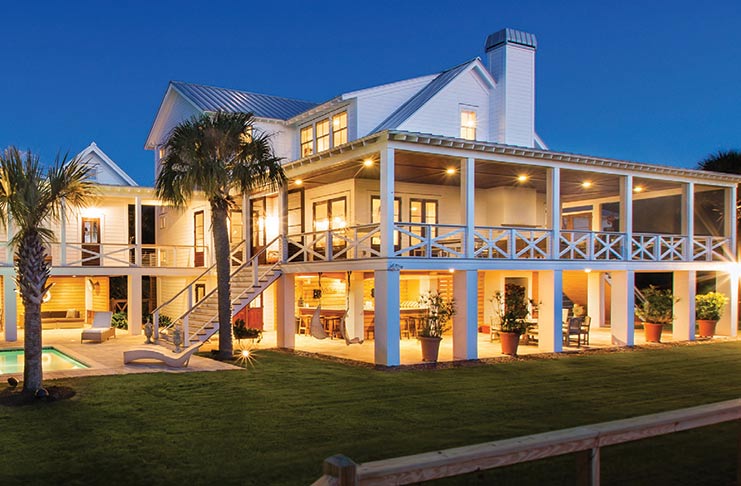 As I pulled up to the Sullivan's Island home of Ann-Therese and Eli Hyman, I was greeted by a black lab named Nikki, who ushered me into the house as though she'd been awaiting my arrival.
Once inside, Eli and Ann-Therese appeared, and I was at once struck by the warmth in the room, emanating not from the hearth but from the couple seated across from me. Although married for nearly three decades, they bantered playfully as though they were still the same love-struck kids who met in Israel when he was 16 and she was 17. I asked how they ended up on Sullivan's Island.
"She chased me for 12 years," Eli joked, as Ann-Therese rolled her eyes in mock indignation. "She wore me down. I lived in Israel for seven years: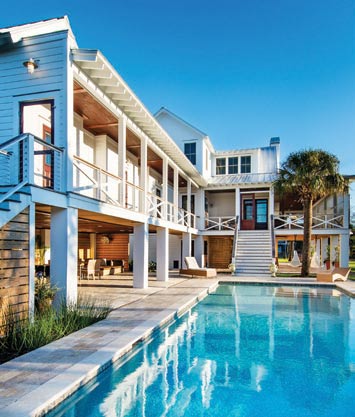 I was studying, I served in the Israeli army and I worked there."
Originally from Sweden, Ann-Therese was in Israel studying language arts.
Eli is a fourth-generation Charlestonian with deep roots in the Lowcountry. His great-grandfather, W.M. Karesh, opened a wholesale dry goods business in the 1800s on Meeting Street, and, in the late '80s, Eli and his brother Aaron re-imagined their great-grandfather's business as restaurants. You know them today as Hyman's Seafood and Aaron's Deli, staples of the Holy City culinary scene.
When the siren song of his hometown beckoned, Eli returned from Israel to attend school. Before long, he and Ann-Therese crossed paths again.
"She came to college down here, and we spent a year together. … we almost killed one another," Eli elaborated with a grin.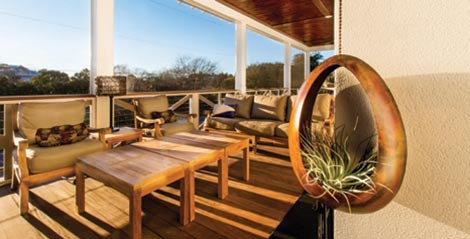 And, as great love stories often do, theirs hit a snag. "I thought we were going to live in Israel at one point, and I was going to be a farmer," Eli said.
Ann-Therese, however, had her reservations. She asked Eli for a few weeks to reconcile what her heart and her head were telling her. Ultimately, she went with her heart, agreeing to live in Israel and be a farmer's wife.
"I figured I would rather live with him in that environment than live without him the rest of my life," she said, smiling.
After Ann-Therese agreed to make the move, Eli – realizing the depth of her love for him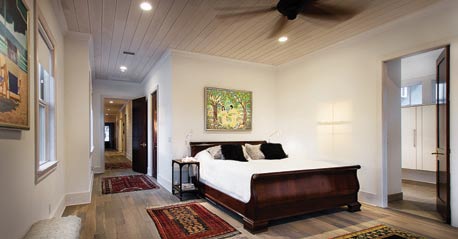 and, perhaps, his for her – reconsidered his dreams, deciding instead that the couple should start their lives together in Charleston, a place they both love.
Which brings us to Sullivan's Island, nine houses later, just a block from the beach.
"After the last house we lived in, I was done moving. We had moved every three to four years, and it was just exhausting," Eli said.
Ann-Therese agreed, with an explanation.
"We used to work, save up money and then travel," she said. "We would meet in Austria, England, Sweden or Israel. But once you have kids and they start going to school, you can't do that. We were able to still feel like we had that kind of life by moving, because you expand your horizons in the neighborhood where you live. We have met wonderful people in every neighborhood we've been in."
After nine moves, though, the couple had quelled their gypsy spirits. They were ready to find their forever home, and Ann-Therese had been doing her homework.
"She had a three-ring binder filled with years of pictures, so we could go to our contractor and say, 'That's what I want, but this is the way I want it to look,' " Eli explained.
Before Ann-Therese's binder of inspiration could come to fruition, though, the Hymans had to find a contractor. Early in their search, they discovered Richard Johnson.
"I was building another house on Sullivan's, and Ann-Therese and Eli liked the way it looked," said Johnson. "Eli stopped by one day, introduced himself, said they really liked the house and wanted to know if I'd be interested in looking at the house they were getting ready to build."
After answering with an emphatic yes, Johnson put in a bid for the project and arranged to meet with Ann-Therese. It was then, before he'd even been hired, that he came face to face with the decade of ideas housed in her binder.
"It took us about two hours, but we went through every page in that book and talked about all of the different things they wanted," Johnson laughed.
It didn't take long for Ann-Therese and Eli to realize that Johnson was the perfect fit for the job.
"Richie is unbelievable," gushed Ann-Therese. "I've never met somebody so honest – he has so much integrity.
If something cost more, he told me. If it cost less, he told me. If he returned a box of nails, he credited my account. … including the tax."
It's this thoroughness that Johnson considers a trademark, something he takes considerable pride in being able to offer homeowners.
"I do a really detailed bid and try to include any costs they may incur during the job, and outline all of that in black and white for them to review ahead of time," said Johnson. "It helps to ease their minds that nothing's being left out."
The collaboration between Johnson, the Hymans and architect Eddie Fava couldn't have played out better.
"For two years prior to starting this construction, Eli and I sat down with our binder and made a wish list of things we really wanted," said Ann-Therese. "While we didn't get some things because they weren't feasible, we were either able to get close to or exactly what we wanted from that list."
For Johnson, bringing the couple's ideas to life was one of his favorite parts of the project.
"I enjoyed hearing about her vision and trying to pull it all together," he explained. "She knew what she wanted to do from the start. To take those ideas and see them go from a binder into their dream home was the best aspect of the job for me."
The home itself is a mix of modern and beachy, sparse and cozy – a dichotomy that is a direct reflection of the homeowners.
"My wife and I are very different," observed Eli, and Ann-Therese added, "I'm into the arts and the simplicity. You know, aesthetics."
For Eli, having a home that would always "have the feeling of a Jewish home, very open and very friendly" took precedence. But the couple came together in at least one major respect.
"We didn't want it to be ostentatious," said Eli. "We wanted something Sullivan's Island beachy and comfortable, yet timeless."
The Hymans also wanted to build the home with the future in mind. Each of their children, ranging in age from 24 down to 14, have a mini "cottage" that sleeps four and overlooks the pool. And the hallways in the home all are wide so they can accommodate wheelchairs.
"But the majority of the money to build this house we put into areas you don't even see. It's in the insulation, the doors, the windows and the foundation," Ann-Therese elaborated.
Although Eli was hesitant to attach happiness to a material thing, he admitted his fondness for the new house.
"Life is short and it's about people and relationships, but this home really does bring me happiness and joy," he confessed. "I see it as a gathering place for our kids and grandkids, a place where people can be comfortable."
Peering around the home, I imagined what the family's future might look like. I saw grown children coming home for the holidays and piling into the kitchen to catch up, as Eli made fresh squeezed orange juice. I imagined toddlers – grandchildren that are still just a wish in Ann-Therese's heart – tugging on Nikki's tail. I saw familiar faces return a thousand times to a place where they'd always seek comfort. And I knew, without a doubt, that the Hymans are finally home for good.