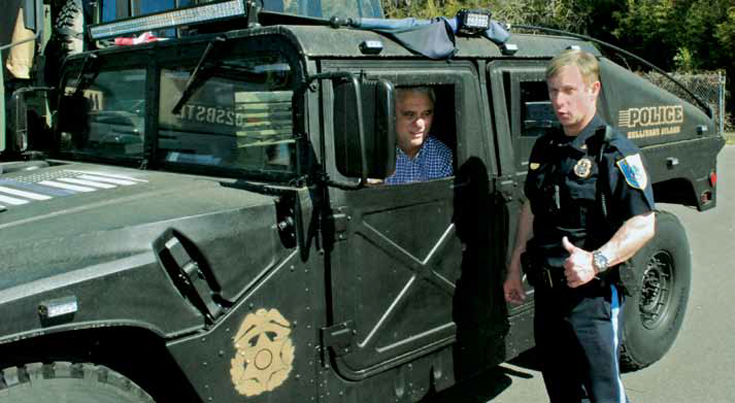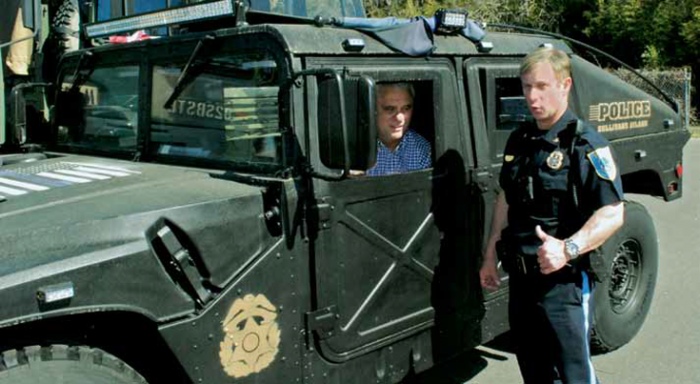 Christopher Griffin has always wanted to be a policeman, to serve his fellow citizens not only as a law enforcement officer but also as someone who can be counted on to help in a variety of situations. He apparently attained his dream job in January 2018, when he was sworn in as the Sullivan's Island police chief. He plans to stay a while.
"I won't leave here unless I have no choice. I would like to stay and retire here as long as the town will have me," said Griffin, who is 43 years old. "I love it here."
Griffin, who had served as acting chief beginning in April 2017, has spent much of his adult life with the Sullivan's Island Police Department, beginning in August 1997. Along the way, he has been a patrolman, a corporal/detective and a lieutenant. He started his police career in North Charleston, where he said there were 300 officers, compared with just seven or eight when he moved on to Sullivan's Island.
Today, Griffin's department includes 10 police officers, an animal control officer and a reserve officer. When the warm weather arrives, he adds four additional employees, two to patrol the beach and two to work in parking enforcement. There is no administrative staff to answer the phone or handle paperwork.
"No one sits in the office all day," he explained.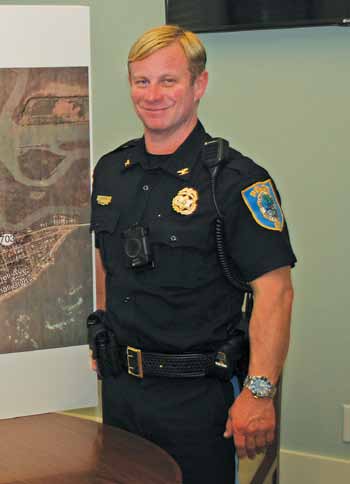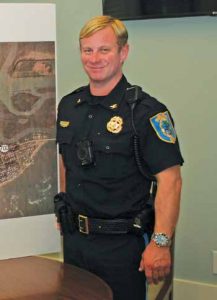 Griffin admitted that crime on Sullivan's Island is not a major issue – "not compared to the rest of the world." Most of what his department deals with are property crimes, alcohol on the beach, speeding and other traffic violations. The chief carries an ASP baton, and though he pointed out that he "never hit anybody with it," he did put it to good use one day last year.
Griffin said he decided to go to the gym on Sept. 9, 2017, but, not feeling well, he left after only 20 minutes. Driving on Interstate 526 on Daniel Island, he witnessed an accident and a man inside a burning car. He used his baton to break the vehicle's window and helped the driver escape from what might have been a deadly traffic mishap.
"I was in the right place at the right time," Griffin said.
In his job as the police chief in a quiet beach town, Griffin has helped local residents in less dramatic but still important ways. He said he has changed tires, given people rides, carried groceries into an older woman's house and helped people find everything from missing car keys to missing kids, and – three times in the past two decades – he's even pitched in by shoveling snow. It's all in a day's work for Griffin.
"I enjoy helping others and interacting with people," said Griffin. "Serving the public is a rewarding feeling, and it's doing something positive."
Griffin grew up in nearby Mount Pleasant and attended Whitesides Elementary School, Moultrie and Laing Middle Schools and Wando High. He is currently working on a degree in Criminal Justice at Trident Technical College.
He said his biggest challenge as Sullivan's Island police chief is developing a positive relationship with the public while still doing his job: enforcing the laws and ordinances of the state and the town. He apparently has built a reputation for maintaining that balance during his nearly 21 years on the force, which served him well when town officials were faced with the task of choosing a new chief.
"I got lots of public support from island residents, even from some people I've arrested," he pointed out.
He said his lengthy experience with the Sullivan's Island Police Department has already made a big difference in the relationship between the island's police officers and its residents.
"I worked my way up through the ranks. I've seen mistakes and pluses. I want to build on the pluses and minimize the things that don't work," he explained. "We get a lot of compliments from the people who live here, and the morale on the force is higher than ever."
The key to continuing and enhancing that relationship between island residents and their Police Department is in the way the new police chief interacts with the police officers who work for him, Griffin pointed out.
"If you treat people with respect and professionalism, they will more than likely treat others the same way," he concluded.
By Brian Sherman