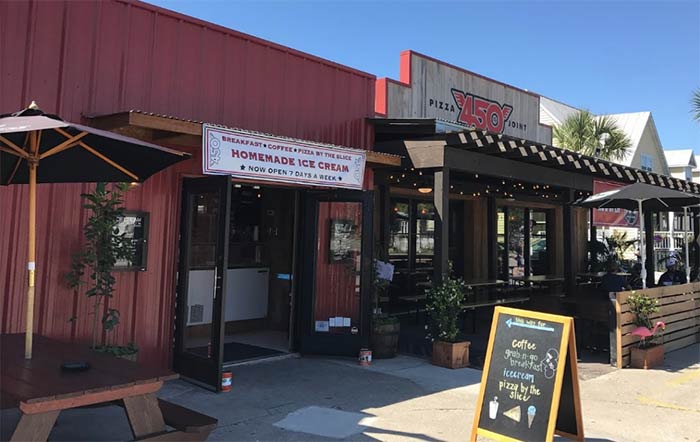 A day at the seaside and a slice of pizza? Sounds like the stuff of which dreams are made, right? And now, shortly after soaking the rays at Sullivan's Island, you can stuff your face at the new 450 Pizza Joint.
450 has an interesting back story. Its owners, William Applegate and Michael Monen, were roommates and pizza aficionados during their days at the College of Charleston. As frequenters of Andolini's Pizza, the two friends swore they'd one day have a New York-style pizzeria all their own. Of course, like all lofty goals, it took a while to happen. Monen became a successful restaurateur, while Applegate became an attorney. Now their vision has come to fruition, and it's a tasty reality indeed.
I've personally been to 450 more than once and enjoyed each visit thoroughly. The pizza is delicious – innovative yet reminiscent of that comforting Brooklyn style. And like their trademark pizza, the appetizers, sandwiches and salads – things like grown-up fried cheese and savory meatballs, or grilled cheese paired with tomato soup – are family pizzeria favorites but with gourmet touches and local ingredients. Purveyors include Kurios Farms, Lowcountry Creamery, Coosaw Farms, Anson Mills, Mepkin Abbey and others. According to Applegate, everything is made in-house, even their popular ice cream.
The story behind the name 450 is as interesting as the friendship between the owners. It was named after a motorcycle, a Honda that he and Monen bought in college.
"We even paid $450 for it," he chuckled.
Memories aside, Applegate and Monen have devoted themselves to creating great pies.
"What we're shooting for is quality," Applegate said, adding that Monen's background as well as his years of "perfecting pizza" by cooking with chefs in New York and Los Angeles, guarantees that patrons from Sullivan's and elsewhere will find their dream pie at 450.
To learn more, stop by 2213-B Middle St in Sullivan's Island or call 843-789-4107.