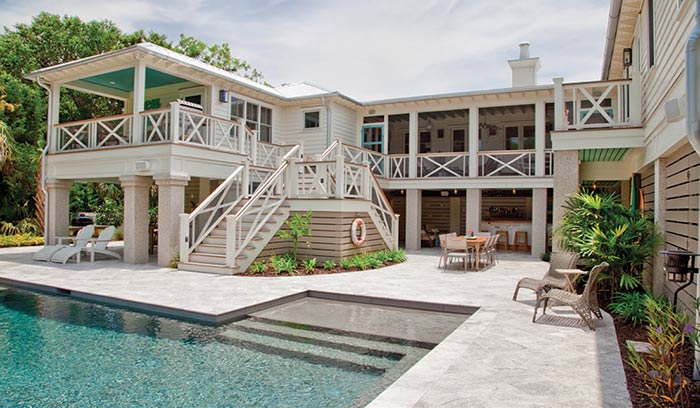 In 2000, Chip Naramore was looking for a career change that would allow him to plant roots in the Lowcountry, where he and his family had been living for eight years. His job in the hospital industry had moved his family various places around the country; they fell in love with Charleston, had basically raised their children here and wanted to find a way to stay.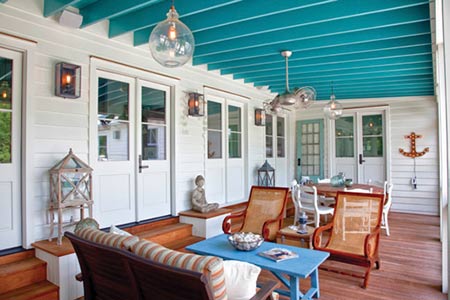 "I hadn't thought about the custom home construction business, but a friend contacted me and mentioned that the owner of RS Custom Homes – a small business well known for new home construction on Dewees Island – was looking for someone to take over the business," said Chip. "I have a lot of experience in health facility construction and felt that this would be a good fit for me."
As the new owners of RS Custom Homes, Chip and his wife, Brenda, who became the office manager, continued building on Dewees Island and soon grew the business' borders to include Sullivan's Island, Isle of Palms, Mount Pleasant and a handful of other areas. After six years, Chip's son, Zac, joined the family business, which recently got a new name: Naramore Construction Company better reflects the pride the two generations of builders have in the quality of the company's work.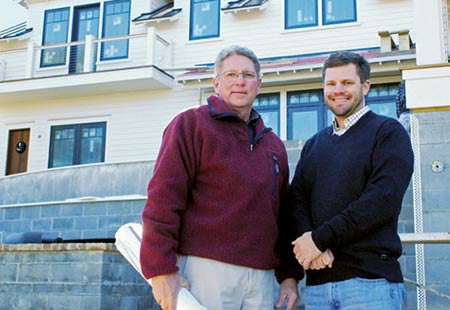 "What we've tried to do over the years is not get locked into a niche – that's what the business was when we first started – just new construction and only one to two projects per year," he continued.
"We increased the company's volume and expanded into whole-home renovations and additions."
Today, Brenda has retired and the Naramore team consists of principals Chip and Zac, an office manager and superintendents. At five to seven projects per year, Naramore Construction Company remains a limited-volume builder, which allows them to provide quality construction and impeccable client service.
"We like to be very hands-on, and we are the contact person for every one of our clients, each step of the way. We don't hand the project off to a superintendent once the contract is signed," Zac said. "It has helped us build relationships with our clients. The island community can be very small, and we live and die by our reputation."
The owners of Naramore Construction Company take customer service seriously. They participate in a nationwide program for contractors called the GuildQuality survey, which rates companies on feedback and customer satisfaction. Their scores have been in the top percentage in the country for the past 10 years.
"We like to be involved early in the process if possible, before someone becomes emotionally vested in their architect's plan and then has to downsize it to meet their budget," said Chip. "We can work with you and your architect to meet your goals. We try to educate clients, guide them through the process and help them make wise decisions."
The Naramore team spends time walking their clients through a detailed, itemized budget to ensure they understand the costs associated with each aspect and detail of the construction process.
"Once we go through this process, our clients are very knowledgeable about the construction of their home, what materials and finishes are included and what every component costs. We have found this to be a very invaluable exercise for all parties involved," said Zac.
Above all, Naramore Construction Company is focused on providing high-quality construction to satisfied clients.
"We work hard to make sure that at the end of the job, our clients walk away and say, 'This was a good experience, and we are thoroughly satisfied with the final product,'" said Zac. "We are located at Breach Inlet, and much of our business is on Sullivan's Island and the Isle of Palms. It's a small community, and a large portion of our business comes from repeat clients. Customers who come back are one of the greatest compliments a business can receive."
To learn about Naramore Construction Company, visit www.rscustomhome.com or call 843-886-5187.
by Anne Toole