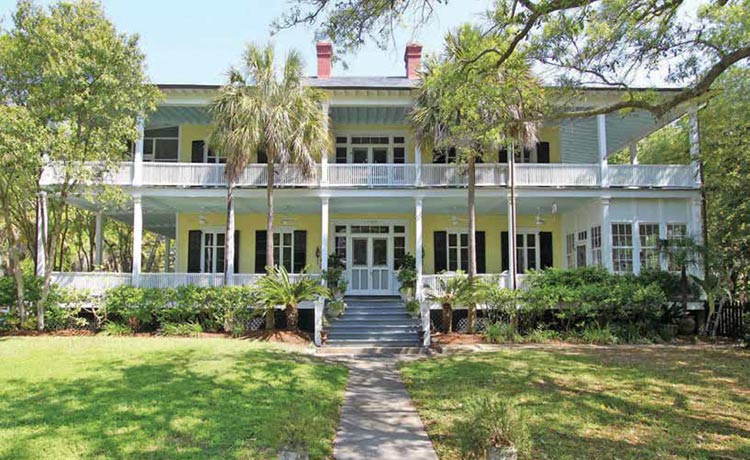 Sullivan's Island is loved for its peaceful seashore and historical sites such as Fort Moultrie. But other pockets of the island are beautiful and certainly worth visiting as well. Officers' Row is one such area, a neighborhood built at the turn of the 20th century to house military officers during World War I and World War II. Today, you can take a stroll up I'on Avenue on a sunny day and, surrounded in natural beauty, soak up the ambience of these stately homes. Though they share a similar Charleston elegance, and they all were beautiful beachfront homes more than 100 years ago, each has its own story.
The newest home on Officers' Row, at 1702 I'On Ave., is also the largest. Built in 1905 and referred to as the base commander's quarters,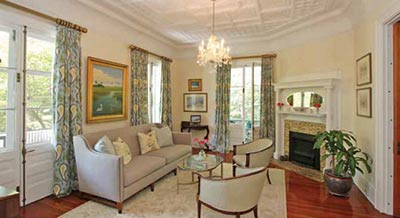 it is the tallest structure on Sullivan's Island other than the lighthouse. George C. Marshall, Army chief of staff during World War II, lay his head at this address for a handful of months in 1933. The house was converted in the 1950s to be used as a private residence.
I recently walked into 1702 and scarcely knew what I was in for. The beauty of the building arrested me, from the grand and wide entrance to the high, pressed metal ceilings and walls and floors of cypress and heart pine.
There's a mood that permeates and inspires me to do just what the house was made for: open all of the French doors to the Sullivan's Island air and walk out onto the wraparound porches, perhaps settling into a rocking chair at some point to look out at the live oak trees in the yard and the neighbors strolling along I'on Avenue. This is a place that slows the mind – encourages us to believe in the idea that it's sufficient just to be alive, to spurn distractions and drink in what makes the world more good than evil.

There's updates, of course – including two bedrooms, four-and-a-half spacious baths and a kitchen that begs to be filled with savory scents. Still, the classical beauty of 1702 is worth seeing on its own, modern bells and whistles aside.
A bit up the street is another stunner: 1738 I'On Ave., built in 1900 and also one of the original officers' quarters for Fort Moultrie. With more than 2,000 square feet of wraparound porches – plus 300 square feet of screenedin porch – and five fireplaces, it's not difficult to imagine turning my chin up toward the sun in the summer or reading a work of literature near sputtering flames during winter. I also can't help but be jealous of the peripheral breezes that blow through these homes, thanks to the abundance of doors and porches.
"Years ago, before air conditioning, these French doors helped the beach breeze flow throughout the entire home," explained Tim Reese of Dunes Properties.
If you can picture yourself in one of these historic homes, then you're in luck. Both are currently on the market. 1738 is offered by Tim Reese, and 1702 is listed with Betty Poore, both of Dunes Properties. For more information, call 843-886-5600 or visit DunesProperties.com.