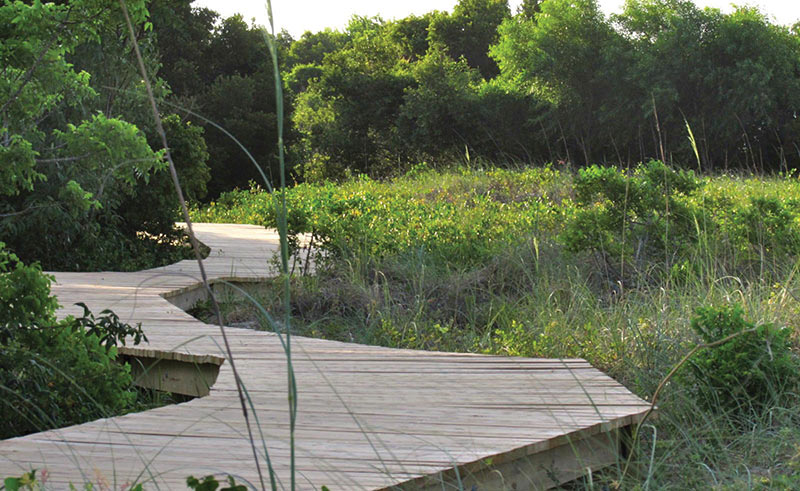 The sun is setting ever so gracefully over the waves, painting the sky in shades of lavender and burnt orange. The air is thick with humidity and salt. I'm at the beach at Sullivan's Island, but gentle grains of sand are not caressing my feet. Instead, I'm standing on a section of slightly elevated boardwalk constructed out of treated Southern yellow pine. Close to the ground, the trail hugs the earth, leaving room for a multitude of frolicking creatures making their way through the waving sea oats. This wooded coastal habitat recently got a very welcomed addition in the form of a 2,000-foot-long nature trail that zigs, zags and offers up an array of secluded spots for solitude and meditation.
"I wanted it to blend in with its surroundings and be as unobtrusive as possible," said Jeff Jackson, the designer behind the winding path located off of Atlantic Street near Station 16. "When on a nature trail, one should see nature. The nature is the star here."
Although Jackson is ecstatic about sharing the area's beauty with creatures of the human variety, he holds the habitat's role in securing a space where animals thrive to be of the utmost importance. A lover of the great outdoors, he revels in seeing the wildlife that inhabits a maritime forest that just 50 years ago was underwater. From migrating songbirds to swallowtail butterflies, the residents of this enclave are always colorful.
While nature's beauty was definitely one of the muses for this trail, Jackson's design also pays homage to other area landmarks that may surprise you.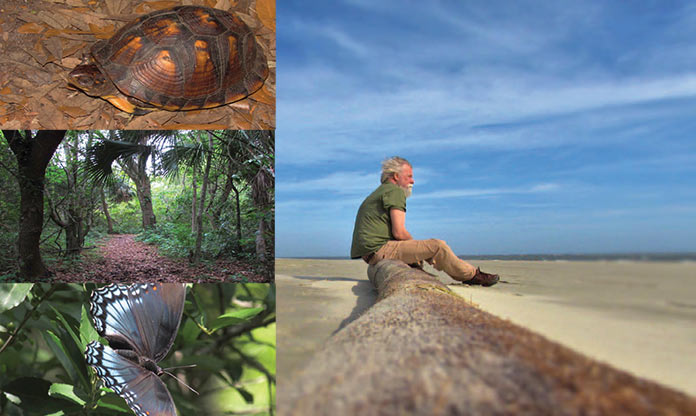 "The construction is inspired by both our three-sided lighthouse and our abundance of military architecture with its interesting angles," said Jackson. "I wanted few right angles. I feel it gives the boardwalk a sense of place."
And found its place it has, with the unique trail attracting both visiting tourists and locals who have pondered exploring the lush woods but never had the opportunity to do so in this way until now.
Twenty years ago, Jackson suggested that this nature trail and boardwalk be constructed so that future generations could share in the scenic serenity that seeps from every corner of Sullivan's Island. Through grant funds from The Urban Greenbelt Grant Project and support from The Town of Sullivan's Island, Charleston County Parks and Recreation, Charleston County and the Lowcountry Open Land Trust, this venture has finally taken shape.
Eleven backless benches, some up to 14 feet long, are cradled by vibrant greenery. Just a few steps onto the $45,000 trail and you will truly feel like you are in a secluded Eden of sorts, far from civilization. Sure, The Obstinate Daughter and Poe's Tavern are just a stone's throw from this sanctuary, but you certainly wouldn't know it given the unencumbered views. As additional signage is added, it too will be unobtrusive to keep a low profile and let the natural surroundings take center stage.
Jackson purposely made sure to keep the boardwalk low to the ground so no unsightly rails would be required.
"I also used existing contours and open areas as much as possible to reduce the impact," said Jackson. "No major trees were removed, and very little grading. Less disturbance means any construction scars will disappear faster."
From dawn to dusk, nature seekers have access to the trail that elegantly flows throughout more than 90 acres of protected land.
"The most rewarding aspect is to be able to showcase a place that has been one of my favorite haunts for over 35 years and use it to educate the public about its importance in the grand scheme of things," said Jackson. "If rising sea level predictions are even partially correct, this could be one of our last opportunities to observe natural succession in a maritime setting."