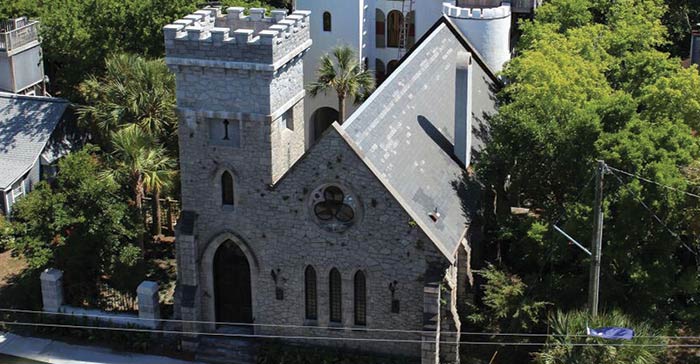 Driving down Middle Street, my tires roll over slick pavement as the clouds continue to take on a deep gray. Raindrops collect on my windshield as I make my way through a midsummer storm in search of an elite property with historic significance as grand as its stature. Mugdock Castle, on Sullivan's Island, possesses the sort of fairytale appeal sure to inspire authors, playwrights and film directors.
Fusing Southern hospitality with European estate charm, this exclusive residence serves as a vacation getaway, the locale of various retreats and the space for the occasional wedding reception. When it's not being used for special events, for owner Vince Graham and his Labrador named Earl, it is, simply, home.
"I love the Old World feel to it, with the heavy walls and high arches," said Graham, a builder who purchased the property in 2002 and, who, along with a team of professionals, carefully crafted it into the stunner it is today. "On one hand it has a formal feel of an old church, but it also fosters conviviality."
Built-in bookshelves filled with novels, biographies and historical fiction look as though a touch here or there may lead to a secret passageway. The books' different colored jackets make up a collage that stands out in the dark-hued, cave-like color palette in this section of the property, aptly named The Winter Hall. Above the stacks of reading materials, you'll find a cozy nook-like loft that one can arrive at by way of a winding staircase. Even on this overcast day, light seeps through a clover-shaped artisan window illuminating the beams of vaulted ceilings.
Mugdock Castle dates back to 1891, when it was built by the Episcopal Diocese as The Church of the Holy Cross. Graham initially wanted to move the church to I'On, a neighborhood he designed, and have it function as a place of worship. He now revels in the fact that he gets to share this space with those celebrating special occasions. The castle's name, a nod to his Scottish ancestry, pays tribute to a 14th century landmark north of Glasgow, constructed by his clan.
"Occasionally, I will get a knock on the door from people looking to see the very spot where their parents were married or where they were baptized," said Graham.
The Summer Hall, a light and airy addition built in the Romanesque style, offers a flawless balance to The Winter Hall. These two buildings, neighbors to Fort Moultrie, are like ornate chess pieces – each with their own signature of intrigue and ingenuity. Shades of cool greens and muted reds adorn shutters, while a rooftop terrace gives way to views of the Charleston Harbor, church steeples and the Intracoastal Waterway. A majestic undercroft area, filled with patio furniture, is ideal for entertaining.
"I wanted it to evoke a sense of wonder and awe," said Graham. "I consider Mugdock to be a bastion of hospitality."
Just one step inside and it's easy to see it is fit for royalty. While no presidents or kings have yet to stay in this structure, a number of film stars and musicians have. A-listers seeking rest and rejuvenation rent this one-of-a-kind property to experience the Lowcountry in a unique way. Jessica Biel and Justin Timberlake, along with Blake Lively and Ryan Reynolds, are among the power couples who have vacationed at Mugdock, which comes complete with a pool and an olive grove.
Church windows add to the Gothic elegance that permeates through this unique dwelling. A seaside property that feels more like it should be hillside somehow works. Dramatic yet warm, Mugdock is the sort of place sure to stir curiosity and command attention.
"The most rewarding aspect of taking on this project was getting the opportunity to work with the craftsmen who really appreciated the building," said Graham. "They threw their hearts into it and it shows."
A poetic blend of romance and history, Mugdock Castle pairs the powerful architecture of a fortress with the serenity of a storybook, still rich with many more chapters.
By Kalene McCort