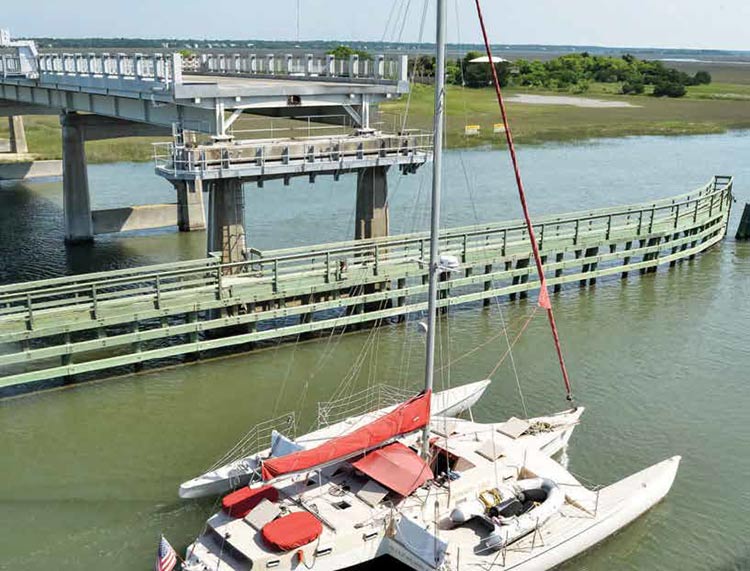 The traffic lights blink from green to red. A loud warning bell clangs as the gates, two on each side of the Ben Sawyer Bridge, slide from vertical to horizontal, bringing traffic between Mount Pleasant and Sullivan's Island to a halt. The bridge tender peers out of the control room windows, and checks real-time cameras, making certain no cars or pedestrians are in danger. It's time for the bridge to swing open, creating a path for a boat to continue its aquatic journey north or south along the Intracoastal Waterway.
Though it might seem like an eternity to impatient drivers, bikers and walkers anxious to make their way on or off the island, the entire process, from the time the lights change until traffic is moving again, takes only six minutes.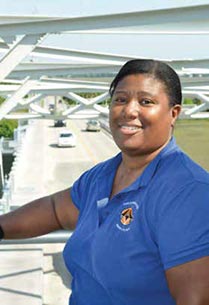 But people who have somehow developed the impression that the job of a bridge tender consists of eight hours of sitting around enjoying the view, interrupted by a few six-minute adventures a day, have it all wrong, according to Veronica Fabers. For the past five years, her office has been a green building high atop the bridge.
"It's beautiful up here, and there's always something to do," said Fabers, who will turn 45 later this year.
Much of her eight-hour shift is spent waiting for boats to call to ask that the bridge be opened or taking care of paperwork. She also spends time on the platform outside of the control room, watching the traffic on the waterway and on the bridge or honing her skills as a photographer. The green building is, of course, air conditioned and equipped with a bathroom.
It's not that she has all that much free time during her shift, usually Monday through Wednesday one week and Monday through Thursday the next. The bridge swings open whenever a boater contacts her by radio, usually around 20 times a day during the summer. On weekends and federal holidays – New Year's Day, Martin Luther King's birthday, President's Day, Memorial Day, Independence Day, Labor Day, Columbus Day, Veterans Day, Thanksgiving and Christmas – the bridge opens every hour, on the hour, from 9 a.m. through 7 p.m.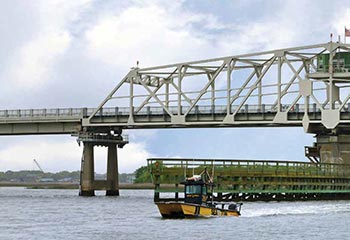 Before and after, boaters can ask for the bridge to swing open, even if it's in the middle of the night. Fabers explained that a bridge tender is always on duty. One of six tenders on the Ben Sawyer Bridge, she has worked the other two shifts – 4 p.m. to midnight and midnight to 8 a.m. – to fill in for co-workers who are taking time off.
So how do bridge tenders decide if a boat is tall enough to require the bridge to open? They don't, according to Robert Pinckney, project supervisor for Drawbridge Services, the company the South Carolina Department of Transportation hired to handle the operations of the bridge. The boater has to make that call.
"It's up to the boater whether the bridge opens," said Pinckney, a retired SCDOT employee who supervises the Ben Sawyer bridge tenders. "Sometimes a boat will come up close to the bridge, and the boater decides the bridge needs to open. Then they'll back off a little bit until we open it."
Pinckney said the clearance below the bridge is usually 25 to 35 feet, depending on the tide.
He pointed out that bridge tenders must have good eyesight and a good general idea of how machinery works. They must pass a written test, complete preliminary training and take a refresher course each year. And, Pinckney said, they must be able to move around and climb steps. Fabers agreed that going up and down the steep flight of metal stairs from the road to the control room might be a problem for some people. And the thought of sitting atop a bridge that swings open 20 or more times a day could be a deal-breaker for potential bridge tenders as well.
"This isn't for seasick people," Fabers commented. "No people who might get motion sickness can be up here."
Pinckney, citing safety as the most important aspect of his job, said maintenance crews visit the bridge regularly, and a major inspection is on the schedule once a year, which probably is one reason Faber said she has experienced few mechanical problems during her five years as a bridge tender. She said most issues can be handled with a phone call to the maintenance crew.
Mother Nature has the potential to create more difficult problems, however. Faber pointed out that once the bridge had to be de-iced. And, Pinckney added, a plan is in place in case the Ben Sawyer Bridge is threatened by a major storm. Local residents will remember that the bridge, originally built in 1945, suffered severe damage and was temporarily out of service when Hurricane Hugo swept through coastal Carolina in 1989.
Pinckney said despite the weather, the bridge tender will remain on duty unless the governor declares a state of emergency and a mandatory evacuation of Sullivan's Island, a situation he termed a "lockdown" or a "tiedown." He added that if there is "closure," the tender stays in the control room and vehicles will be able to use the bridge, but it won't swing open for boats to pass.
Fabers pointed out that during her five years on the job, she has never had to leave the control house because of inclement weather.
According to Pinckney, the Ben Sawyer Bridge is one of six swing bridges along the South Carolina coast. The others are Little River and Socastee in the Myrtle Beach area; Ladys Island and Harbor River near Beaufort; and the Wando Bridge, which connects Charleston County and Berkeley County along Highway 41.
After five years, Fabers apparently has settled into her job high above the Intracoastal Waterway. She doesn't anticipate seeking a new position any time soon.
"I love being by myself," she said. "And it's a cool job. We'll see."
.