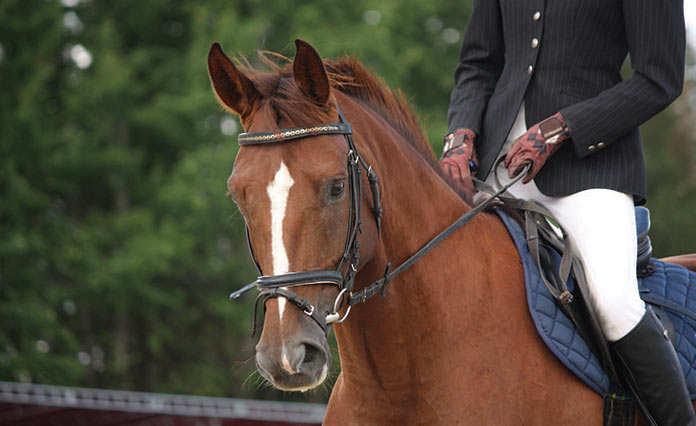 On Horses and Healing: A New Approach When Grayson Schirmer was halfway through her last semester at the College of Charleston in the fall of 2014, she was anticipating beginning a career in marketing for the family insurance business, even though she was not thrilled about the idea of working behind a desk all day. A chance encounter just months before graduation inspired her to change course and start her own business, doing something close to her heart: working with horses and people.
Schirmer was born and raised on Sullivan's Island and still calls it home today. She has been riding horses since she was 5 years old and competes in hunter/ jumper horse shows across the region.
At a horse show in Aiken last fall, Schirmer walked past a couple in the barn using a strange looking machine on a horse and stopped to learn more.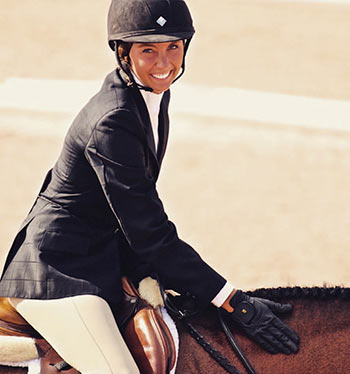 "You see people all the time coming into the barns wanting to do chiropractic work, acupuncture or wanting to massage your horse, but this machine was different," she explained. "You could actually see the horse's muscles moving, and I got interested in it."
The machine, she learned, was a pulsed electromagnetic field therapy device (PEMF) called an EquiPulse.
"All living cells generate a natural electrical charge," Schirmer explained. "When the cell is damaged by an injury, toxicity or a deficiency, that results in pain, loss of energy, inflammation and more."
When the EquiPulse's "loop" is placed on the area of pain, it creates a safe and gentle pulsing magnetic field which stimulates cell metabolism, reduces pain and inflammation and ultimately improves the body's ability to heal.
"So I asked them if it works on people, because I have pain and I'm sore all the time," Schirmer continued. "I wanted to see how it worked on me before I put it on my animal."
The couple in the barn explained that the machine can be used both on people and animals.
With piqued curiosity, Schirmer tested the machine on an old knee injury that had continued to cause her pain.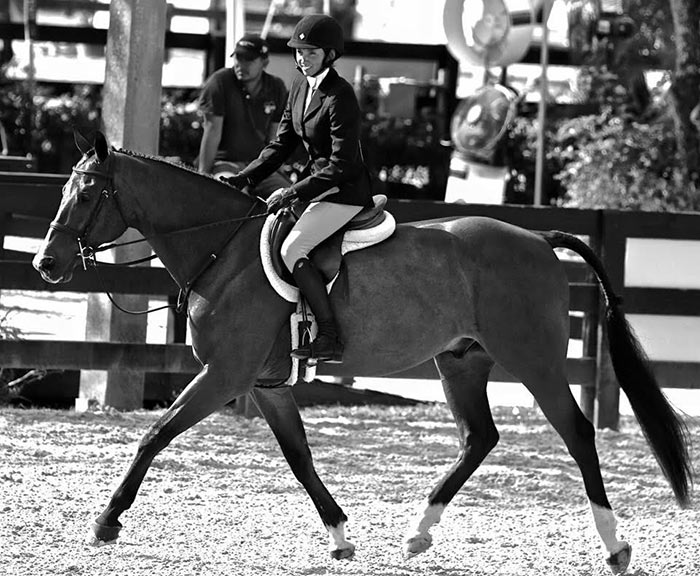 "My pain went away instantly. That was last fall and the pain still hasn't returned," she said. "Another rider in the barn suffers from migraines and is prescribed medicine, but sometimes the medicine doesn't help. She tried the EquiPulse machine and her headache went away immediately."
Days later, Schirmer was still in awe of her experience in the barn. She was sold.
"I called them, and I said 'How can I do what you do?'" she remarked.
After learning that no one in South Carolina used an EquiPulse commercially, Schirmer bought a machine, attended training to become an authorized PEMF practitioner and started her own business, Top Call Therapy, LLC.
"Growing up in Charleston, I have so many friends who are into horses, so I knew this could really be a huge market for something like this," she said.
But her sudden change in career paths was not without its challenges.
"I've never been a sales kind of person," Schirmer explained. "People don't just come up to me and ask to use the EquiPulse. I have to self-promote. It's a lot of walking around show barns, giving out fliers and talking to people."
Schirmer travels from Florida to New York and everywhere in between, competing in horse shows and offering EquiPulse services. To gain customers and awareness of this drug-free healing method, she offers division first-place winners a free treatment at each horse show she attends.
"Everyone is constantly on the go in the horse show world, and no one really has time to listen to me. Once they win the free treatment, they love it and they believe in it," she continued. "And a lot of people are like me; they want to try it on themselves before they put it on their horse."
When she's not traveling to horse shows, Schirmer provides in-home treatments for people and even dogs. She charges $20 for a 10-minute treatment, which allows her time to focus on the pain in one major muscle group.
"I work on just as many people as I do horses, and it's made for both. People with arthritis; sciatica; recovering from tendon injuries; torn ACLs; migraines; all kinds of issues," she said. "The results are almost immediate, and the treatments help accelerate healing by increasing blood circulation to the affected area, relieving pain and decreasing inflammation."
Schirmer also uses the EquiPulse on her dog, who suffers from hip dysplasia.
"Many times, I'll do a full-body treatment on an animal," she pointed out. "While a person can tell you what hurts and where, a horse or a dog cannot."
The effects of the treatments can last anywhere from days to months, depending on the nature of the injury and the cause of pain.
Schirmer has now been in the EquiPulse business for a year and enjoys being able to combine her career with her love of horses and people.
"So many people are turning to a holistic approach to health care," she said. "These EquiPulse treatments have no drugs and no side effects; it's a 100-percent holistic healing solution. Once people try it, they love it."